Warbird Rides Over Tulsa
Fly over Tulsa in one of our beautifully-restored aircraft! Rides last approximately 25 minutes and are conducted on Saturdays from Jones Riverside Airport in Tulsa, Oklahoma (weather permitting). Purchase rides or gift certificates on this website through our secure online store and then schedule them by either filling out our scheduling form or contacting our ride coordinator. (For Gift Certificates, the scheduling instructions are printed on the certificate so the recipient can schedule their own ride).
PT-19 Open-Cockpit Rides
Experience the thrill of flying around the city of Tulsa with the wind in your hair and goggles over your eyes! Our open-cockpit, fully-restored PT-19 is a piece of flying history! This is a once-in-a-lifetime opportunity to ride in the same aircraft that trained some of our country's greatest aviators during World War II! Each ride lasts approximately 25 minutes.
Maximum passenger weight is 250 lbs. Individuals aged 12 and over only may fly in our PT-19. 
25 Minute PT-19 Ride: $170 (GoPro video available for $20 more!)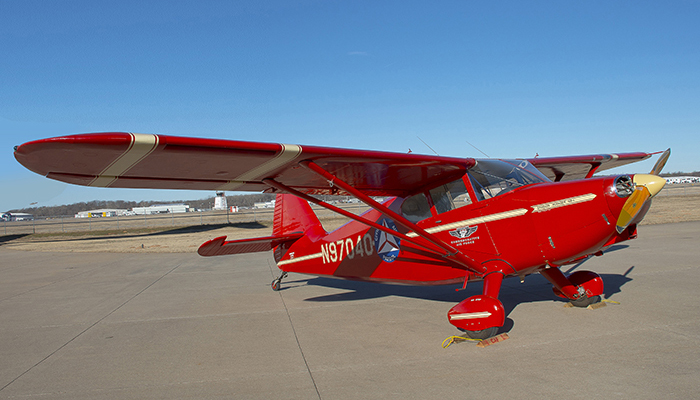 Stinson Voyager Rides
You and up to two of your friends can experience the golden age of aviation in our Stinson Voyager. As you soar over Tulsa, you can imagine the brave pilots who flew along the U.S. coastline during WWII, looking for enemy submarines. Our Stinson is beautifully restored to its wartime glory. Each ride lasts approximately 25 minutes.
Maximum weight / height per passenger:
FRONT -  Max weight 200 lbs / Max height 6'0"

BACK - Max weight 220 lbs / Max height 6'0"
Minimum age is 6 years old. Children 12 and under must fly with adult.

25 Minute Stinson Voyager Ride for up to three passengers $150 (TOTAL)